CAUTION: Certain glass syringes may malfunction, break or clog when connected to some Needleless Luer Access Devices (NLADs) and needles. This syringe has a larger internal syringe tip and an external collar (luer collar). The external collar must remain attached to the syringe.
Data show that the syringe achieves acceptable connections with the BD Eclipse™ Needle and the Terumo SurGuard3™ Safety Needle and with the following non-center post NLADs: BD SMARTSITE™ and BD-Q SYTE™. The data also show acceptable connections are achieved to the center post ICU Medical CLAVE™.
However, spontaneous disconnection of this glass syringe from needles and NLADs with leakage of drug product may occur. Assure that the needle or NLAD is securely attached before beginning the injection. Visually inspect the glass syringe-needle or glass syringe-NLAD connection before and during drug administration.
Figure 1

1. Inspect the outer packaging (plastic tube) by verifying:
- plastic tube integrity
- drug name
- drug strength
- dose volume
- route of administration
- expiration date to be sure that the drug has not expired
- sterile field applicability
Do not use if package has been damaged.
2. Remove the plastic tube cap of the outer packaging to access the syringe.
3. Remove the syringe from the plastic tube.
4. Perform visual inspection on the syringe by verifying:
- absence of syringe damage
- absence of external particles
- absence of internal particles
- proper drug color
- expiration date to be sure that the drug has not expired
- drug name
- drug strength
- dose volume
- route of administration
- sterile field applicability
5. Push plunger rod slightly to break the stopper loose while tip cap is still on.
6. Remove tip cap by twisting it off. (See Figure 2)
Figure 2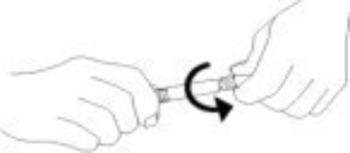 7. Discard the tip cap.
8. Expel air bubble.
9. Adjust dose by expelling extra volume (where applicable) from the syringe into sterile material prior to administration.
10. Connect the syringe to appropriate injection connection depending on route of administration. Before injection, ensure that the syringe is securely attached to the needle or needleless luer access device (NLAD).
11. Depress plunger rod to deliver medication. Ensure that pressure is maintained on the plunger rod during the entire administration.
12. Remove syringe from NLAD (if applicable) and discard into appropriate receptacle. To prevent needle-stick injuries, needles should not be recapped.
NOTES:
- All steps must be done sequentially
- Do not autoclave syringe
- Do not use this product on a sterile field
- Do not introduce any other fluid into the syringe at any time
- This product is for single dose only; discard unused portion.
Manufactured by:
Hikma Pharmaceuticals USA Inc.
Berkeley Heights, NJ 07922
462-892-01
Revised May 2023