(Sterile)
Rx only
FOR TOPICAL APPLICATION IN THE EYE
*Does not meet USP packaging specification for light resistance.
DESCRIPTION
Polymyxin B Sulfate and Trimethoprim Ophthalmic Solution, USP* is a sterile antimicrobial solution for topical ophthalmic use. It has a pH of 4.0 to 6.2 and osmolality of 270 to 310 mOsm/kg.
Chemical Names: Trimethoprim sulfate, 2,4-diamino-5-(3,4 5-trimethoxybenzyl)pyrimidine sulfate (2:1), is a white, odorless, crystalline powder with a molecular weight of 678.72 and the following structural formula: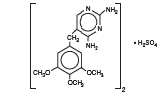 C28H38N8O10S
Mol. Wt. 678.72
Polymyxin B sulfate is the sulfate salt of polymyxin B1 and B2 which are produced by the growth of Bacillus polymyxa  (Prazmowski) Migula (Fam. Bacillaceae). It has a potency of not less than 6,000 polymyxin B units per mg, calculated on an anhydrous basis. The structural formula is:

Each mL contains: ACTIVES: Polymyxin B Sulfate equal to 10,000 polymyxin B units, Trimethoprim Sulfate (equivalent to trimethoprim 1 mg); INACTIVES: Purified Water, Sodium Chloride. Sulfuric acid and, if necessary, sodium hydroxide may be added to adjust pH (4.0 – 6.2). PRESERVATIVE ADDED: Benzalkonium Chloride 0.004%.
CLINICAL PHARMACOLOGY
Trimethoprim is a synthetic antibacterial drug active against a wide variety of aerobic gram-positive and gram-negative ophthalmic pathogens. Trimethoprim blocks the production of tetrahydrofolic acid from dihydrofolic acid by binding to and reversibly inhibiting the enzyme dihydrofolate reductase. This binding is stronger for the bacterial enzyme than for the corresponding mammalian enzyme and therefore selectively interferes with bacterial biosynthesis of nucleic acids and proteins.
Polymyxin B, a cyclic lipopeptide antibiotic, is bactericidal for a variety of gram-negative organisms, especially Pseudomonas aeruginosa. It increases the permeability of the bacterial cell membrane by interacting with the phospholipid components of the membrane.
Blood samples were obtained from 11 human volunteers at 20 minutes, 1 hour and 3 hours following instillation in the eye of 2 drops of ophthalmic solution containing 1 mg trimethoprim and 10,000 units polymyxin B per mL. Peak serum concentrations were approximately 0.03 μg/mL trimethoprim and 1 unit/mL polymyxin B.
Microbiology:In vitro studies have demonstrated that the anti-infective components of trimethoprim sulfate and polymyxin B sulfate ophthalmic solution are active against the following bacterial pathogens that are capable of causing external infections of the eye:
Trimethoprim:Staphylococcus aureus and Staphylococcus epidermidis, Streptococcus pyogenes, Streptococcus faecalis, Streptococcus pneumoniae, Haemophilus influenzae, Haemophilus aegyptius, Escherichia coli, Klebsiella pneumoniae, Proteus mirabilis (indole-negative), Proteus vulgaris (indole-positive), Enterobacter aerogenes and Serratia marcescens.
Polymyxin B:Pseudomonas aeruginosa, Escherichia coli, Klebsiella pneumoniae, Enterobacter aerogenes and Haemophilus influenzae.
INDICATIONS AND USAGE
Polymyxin B sulfate and trimethoprim ophthalmic solution is indicated in the treatment of surface ocular bacterial infections, including acute bacterial conjunctivitis, and blepharoconjunctivitis, caused by susceptible strains of the following microorganisms: Staphylococcus aureus, Staphylococcus epidermidis, Streptococcus pneumoniae, Streptococcus viridans, Haemophilus influenzae and Pseudomonas aeruginosa.**
**Efficacy for this organism in this organ system was studied in fewer than 10 infections.
CONTRAINDICATIONS
Polymyxin B sulfate and trimethoprim ophthalmic solution is contraindicated in patients with known hypersensitivity to any of its components.
WARNINGS
NOT FOR INJECTION INTO THE EYE. If a sensitivity reaction to polymyxin B sulfate and trimethoprim ophthalmic solution occurs, discontinue use. Polymyxin B sulfate and trimethoprim ophthalmic solution is not indicated for the prophylaxis or treatment of ophthalmia neonatorum.
ADVERSE REACTIONS
The most frequent adverse reaction to polymyxin B sulfate and trimethoprim ophthalmic solution is local irritation consisting of increased redness, burning, stinging, and/or itching. This may occur on instillation, within 48 hours, or at any time with extended use. There are also multiple reports of hypersensitivity reactions consisting of lid edema, itching, increased redness, tearing, and/or circumocular rash. Photosensitivity has been reported in patients taking oral trimethoprim.
To report SUSPECTED ADVERSE REACTIONS, contact Bausch + Lomb, a division of Valeant Pharmaceuticals North America LLC, at 1-800-321-4576 or FDA at 1-800-FDA-1088 or www.fda.gov/medwatch.
DOSAGE AND ADMINISTRATION
In mild to moderate infections, instill one drop in the affected eye(s) every three hours (maximum of 6 doses per day) for a period of 7 to 10 days.