Uses
relieves:
heartburn
indigestion
upset stomach
nausea
diarrhea
(Also relieves traveler's diarrhea and gas, belching, and fullness due to overindulgence with food and drink.)
Warnings
Reye's syndrome
Children and teenagers who have or are recovering from chicken pox or flu-like symptoms should not use this product. When using this product, if changes in behavior with nausea or vomiting occur, consult a doctor because these symptoms could be an early sign of Reye's syndrome, a rare but serious illness.
Allergy alert
Contains salicylate. Do not take if you are
allergic to salicylates (including aspirin)
taking other salicylate products
Ask a doctor or pharmacist before use if you are taking any drug for
anticoagulation (thinning the blood)
diabetes
gout
arthritis
Stop use and ask a doctor if
symptoms get worse
ringing in the ears or loss of hearing occurs
diarrhea lasts more than 2 days
Directions
shake well before use.
adults and children 12 years and over: 1 dose (2 Tbsp or 30 mL) every 1/2 to 1 hour as needed
do not exceed 8 doses (16 Tbsp or 240 mL) in 24 hours.
use until diarrhea stops, but not more than 2 days.
children under 12 years: ask a doctor.
drink plenty of clear fluids to help prevent dehydration caused by diarrhea.
Other Information
each Tbsp (15 mL) contains: sodium 5 mg
low sodium
sugar free
salicylate 145 mg
may not meet USP requirements for pH
pink colored, peppermint flavored liquid supplied in the following oral dosage form: NDC 0121-4803-30 (unit dose cups of 30 mL).
store at 20° to 25°C (68° to 77°F). Protect from freezing.
Inactive ingredients
D&C Red No. 22, D&C Red No. 28, methyl salicylate, peppermint flavor, potassium sorbate, purified water, salicylic acid, sodium benzoate, sodium saccharin, sodium salicylate, veegum and xanthan gum.
PRINCIPAL DISPLAY PANEL - Unit Dose Cup Label
Delivers 30 mL
NDC: 0121-4803-30
PINK
BISMUTH
(Bismuth Subsalicylate
Oral Suspension)
524 mg/30 mL
SHAKE WELL
FOR INSTITUTIONAL USE ONLY
PHARMACEUTICAL ASSOCIATES, INC.
GREENVILLE, SC 29605
SEE INSERT
A48033001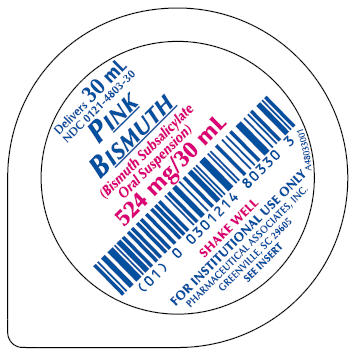 Pharmaceutical Associates, Inc.