DESCRIPTION:
Alclometasone dipropionate ointment contains alclometasone dipropionate (7α-chloro-11β ,17,21-trihydroxy-16α -methylpregna-1,4-diene-3,20-dione 17,21-dipropionate), a synthetic corticosteroid for topical dermatologic use. The corticosteroids constitute a class of primarily synthetic steroids used topically as anti-inflammatory and antipruritic agents. Chemically, alclometasone dipropionate is C28H37ClO7. It has the following structural formula:
Alclometasone dipropionate has the molecular weight of 521. It is a white powder, insoluble in water, slightly soluble in propylene glycol, and moderately soluble in hexylene glycol. Each gram of alclometasone dipropionate ointment contains 0.5 mg of alclometasone dipropionate in an ointment base of hexylene glycol, white wax, propylene glycol stearate, and white petrolatum.
CLINICAL PHARMACOLOGY:
Like other topical corticosteroids, alclometasone dipropionate has anti-inflammatory, antipruritic, and vasoconstrictive properties. The mechanism of the anti-inflammatory activity of the topical steroids, in general, is unclear. However, corticosteroids are thought to act by the induction of phospholipase A2 inhibitory proteins, collectively called lipocortins. It is postulated that these proteins control the biosynthesis of potent mediators of inflammation such as prostaglandins and leukotrienes by inhibiting the release of their common precursor, arachidonic acid. Arachidonic acid is released from membrane phospholipids by phospholipase A2.
Pharmacokinetics: The extent of percutaneous absorption of topical corticosteroids is determined by many factors, including the vehicle and the integrity of the epidermal barrier. Occlusive dressings with hydrocortisone for up to 24 hours have not been demonstrated to increase penetration; however, occlusion of hydrocortisone for 96 hours markedly enhances penetration. Topical corticosteroids can be absorbed from normal intact skin. Inflammation and/or other disease processes in the skin may increase percutaneous absorption. A study utilizing a radiolabeled alclometasone dipropionate ointment formulation was performed to measure systemic absorption and excretion. Results indicated that approximately 3% of the steroid was absorbed during 8 hours of contact with intact skin of normal volunteers. Studies performed with alclometasone dipropionate ointment indicate that this product is in the low to medium range of potency as compared with other topical corticosteroids.
INDICATIONS AND USAGE:
Alclometasone dipropionate ointment is a low to medium potency corticosteroid indicated for the relief of the inflammatory and pruritic manifestations of corticosteroid-responsive dermatoses. Alclometasone dipropionate ointment may be used in pediatric patients 1 year of age or older, although the safety and efficacy of drug use for longer than 3 weeks have not been established (see PRECAUTIONS: Pediatric Use). Since the safety and efficacy of alclometasone dipropionate ointment have not been established in pediatric patients below 1 year of age, the use in this age-group is not recommended.
CONTRAINDICATIONS:
Alclometasone dipropionate ointment is contraindicated in those patients with a history of hypersensitivity to any of the components in these preparations.
ADVERSE REACTIONS:
The following local adverse reactions have been reported with alclometasone dipropionate ointment in approximately 1% of patients: itching, burning, and erythema. The following additional local adverse reactions have been reported infrequently with topical corticosteroids, but may occur more frequently with the use of occlusive dressings. These reactions are listed in approximate decreasing order of occurrence: folliculitis, acneiform eruptions, hypopigmentation, perioral dermatitis, allergic contact dermatitis, secondary infection, skin atrophy, striae, and miliaria.
OVERDOSAGE:
Topically applied alclometasone dipropionate ointment can be absorbed in sufficient amounts to produce systemic effects (see PRECAUTIONS).
DOSAGE AND ADMINISTRATION:
Apply a thin film of alclometasone dipropionate ointment to the affected skin areas two or three times daily; massage gently until the medication disappears. Alclometasone dipropionate ointment may be used in pediatric patients 1 year of age or older. Safety and effectiveness of alclometasone dipropionate ointment in pediatric patients for more than 3 weeks of use have not been established. Use in pediatric patients under 1 year of age is not recommended. As with other corticosteroids, therapy should be discontinued when control is achieved. If no improvement is seen within 2 weeks, reassessment of diagnosis may be necessary. Alclometasone dipropionate ointment should not be used with occlusive dressings unless directed by a physician. Alclometasone dipropionate ointment should not be applied in the diaper area if the child still requires diapers or plastic pants as these garments may constitute occlusive dressing.
Geriatric Use: In studies where geriatric patients (65 years of age or older, see PRECAUTIONS) have been treated with alclometasone dipropionate ointment, safety did not differ from that in younger patients; therefore, no dosage adjustment is recommended.
HOW SUPPLIED:
Alclometasone dipropionate ointment USP, 0.05% is supplied in
Store between 2° and 30°C (36° and 86°F).
E. FOUGERA & CO.
A division of Fougera Pharmaceuticals Inc.
Melville, New York 11747
I2264D
R09/12
#77
PACKAGE LABEL – PRINCIPAL DISPLAY PANEL – 15 G Container
Fougera ®
ALCLOMETASONE
DIPROPIONATE OINTMENT
USP, 0.05%
Rx only
FOR DERMATOLOGIC USE ONLY
NOT FOR OPHTHALMIC USE

WARNING: Keep out of reach
of children.
NET WT 15 grams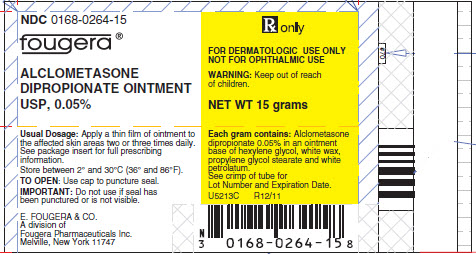 E. Fougera & Co. a division of Fougera Pharmaceuticals Inc.