Ionosol MB and 5% Dextrose Injection (Multiple Electrolytes and 5% Dextrose Injection Type 1, USP) is a sterile, nonpyrogenic solution designed for intravenous administration. The solution is formulated to provide fluid and electrolytes for treatment of dehydration and acidosis.
Each 100 mL contains dextrose, hydrous 5 g; sodium lactate, anhydrous 260 mg; potassium chloride 141 mg; magnesium chloride, hexahydrate 30 mg; monobasic potassium phosphate, anhydrous 15 mg; and monobasic sodium phosphate, monohydrate 25 mg.
Each liter contains 25 mEq sodium (Na+); 20 mEq potassium (K+); 3 mEq magnesium (Mg++); 22 mEq chloride (Cl¯); 3 mM of phosphate (PO4≡); and 23 mEq lactate (CH3CH(OH)COO¯).
The electrolyte content is hypotonic (100 mOsmol/L) in relation to the extracellular fluid (1pprox.. 280 mOsmol/L). The osmolarity for the total solution is 352 mOsmol/L (calc.). May contain hydrochloric acid for pH adjustment. pH is 5.0 (4.0 to 6.5).
Dextrose, USP, hydrous is chemically designated C6H12O6 H2O (D-glucose, monohydrate), a hexose sugar freely soluble in water. Dextrose, hydrous has the following structural formula: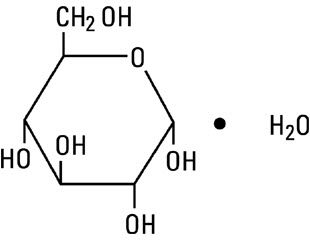 Magnesium Chloride, USP, hexahydrate is chemically designated MgCl2 6H2O, colorless flakes or crystals very soluble in water.
Potassium Chloride, USP is chemically designated KCl, a white granular powder freely soluble in water.
Monobasic Potassium Phosphate, NF, anhydrous is chemically designated KH2PO4, colorless crystals or white granular powder freely soluble in water.
Sodium Lactate, USP is chemically designated CH3CH(OH)COONa, a 60% aqueous solution miscible in water.
Monobasic Sodium Phosphate, USP, monohydrate is chemically designated NaH2PO4 H2O, white crystals or granules freely soluble in water.
Water for Injection, USP is chemically designated H2O.
The flexible plastic container is fabricated from a specially formulated polyvinylchloride. Water can permeate from inside the container into the overwrap but not in amounts sufficient to affect the solution significantly. Solutions inside the plastic container also can leach out certain of their chemical components in very small amounts before the expiration period is attained. However, the safety of the plastic has been confirmed by tests in animals according to USP biological standards for plastic containers.