Clobetasol Propionate Cream USP, 0.05% contains the active compound clobetasol propionate, a synthetic corticosteroid, for topical dermatologic use. Clobetasol, an analog of prednisolone, has a high degree of glucocorticoid activity and a slight degree of mineralocorticoid activity.
Chemically, clobetasol propionate is (11ß,16ß)-21-chloro-9-fluoro-11-hydroxy-16-methyl-17-(1-oxopropoxy)-pregna-1,4- diene-3,20-dione, and it has the following structural formula: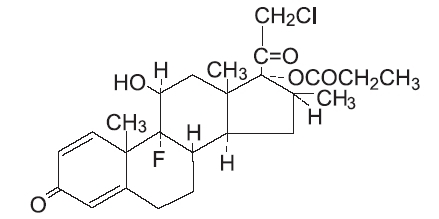 Clobetasol propionate has the molecular formula C25H32CIFO5 and a molecular weight of 467. It is a white to cream-colored crystalline powder insoluble in water.
Clobetasol propionate cream contains clobetasol propionate 0.5 mg/g in a cream base composed of cetyl alcohol, citric acid monohydrate, glycol stearate, lanolin liquid, methylparaben, PEG-400 stearate, polysorbate 60, propylene glycol, propylparaben, purified water, stearyl alcohol, and white petrolatum. Sodium hydroxide may be used to adjust pH.