Lidocaine patch 5% is comprised of an adhesive material containing 5% lidocaine, USP, which is applied to a white non-woven polyethylene terephthalate (PET) material backing and covered with a transparent PET release liner. The release liner is removed prior to application to the skin. The size of the patch is 10 cm x 14 cm.
Lidocaine, USP is chemically designated as acetamide, 2-(diethylamino)-N-(2,6-dimethylphenyl), has an octanol:water partition ratio of 43 at pH 7.4, and has the following structure: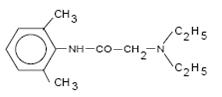 Each adhesive patch contains 700 mg of lidocaine, USP (50 mg per gram adhesive) in an aqueous base. It also contains the following inactive ingredients: glycerin, D-sorbitol, propylene glycol, polyvinyl alcohol, urea, sodium polyacrylate, carboxymethylcellulose sodium, gelatin, polyacrylic acid, kaolin, tartaric acid, dihydroxyaluminum aminoacetate, methylparaben, propylparaben, and edetate disodium.