Do not use if cap band is missing or broken. If you are pregnant or nursing, consult a licensed health care professional before using this product. If symptoms persist for 7 days or worsen, contact a licensed practitioner. To be used according to label indications and/or standard homeopathic indications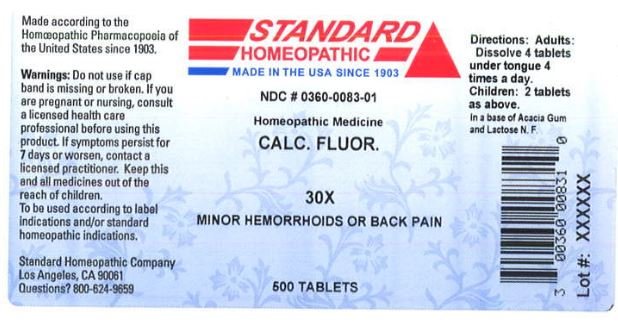 DIRECTIONS: ADULTS: Dissolve 4 tablets under the tongue 4 times a day.
CHILDREN: 2 tablets as above.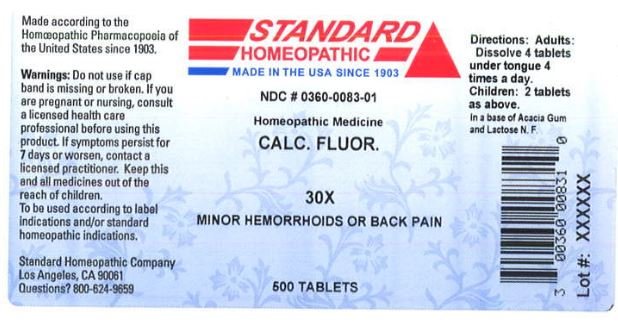 Principal Display Panel -- 500 Tablet Bottle
Made according to the Homeopathic Pharmacopoeia of the United States since 1903.
Warnings: Do not use if cap band is missing or broken. If you are pregnant or nursing, consult a licensed health care professional before using this product. If symptoms persist for 7 days or worsen, contact a licensed practitioner. Keep this and all medicines out of the reach of children. To be used according to label indications and/or standard homeopathic indications.
Standard Homeopathic Company
Los Angeles, CA 90061
Questions? 800-624-9659
Standard Homeopathic
Made in the USA Since 1903
NDC # 0360-0083-01
Homeopathic Medicine
CALC. FLOUR. 30X
MINOR HEMORRHOIDS OR BACK PAIN
500 Tablets
DIRECTIONS: ADULTS: Dissolve 4 tablets under the tongue 4 times a day. CHILDREN: 2 tablets as above.
In a base of Acacia Gum and Lactose N.F.
3 00360 00831 0
Lot #: XXXXXX