DESCRIPTION
Tobramycin Ophthalmic Solution, USP 0.3% is a sterile topical ophthalmic antibiotic formulation prepared specifically for topical therapy of external ophthalmic infections.
Each mL contains
Active: Tobramycin 3 mg (0.3%). Inactives: Boric Acid, Sodium Sulfate, Sodium Chloride, Tyloxapol and Purified Water. Sodium Hydroxide and/or Sulfuric Acid (to adjust pH). Tobramycin Ophthalmic Solution, USP 0.3% has a pH range between 7.0 and 8.0.
Preservative Added: Benzalkonium Chloride 0.1 mg (0.01%).
Tobramycin is a water-soluble aminoglycoside antibiotic active against a wide variety of gram-negative and gram-positive ophthalmic pathogens.
The chemical structure of tobramycin is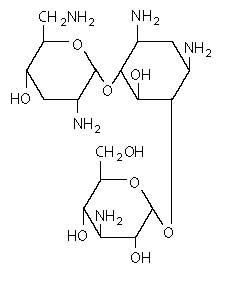 Molecular weight: 467.52
Molecular formula: C18H37N5O9

Chemical name:
(2S,3R,4S,5S,6R)-4-amino-2-[(1S,2S,3R,4S,6R)-4,6-diamino-3-[(2R,3R,5S,6R)-3-amino-6-(aminomethyl)-5-hydroxyoxan-2-yl]oxy-2-hydroxycyclohexyl]oxy-6-(hydroxymethyl)oxane-3,5-diol;sulfuric acid
CLINICAL PHARMACOLOGY
In Vitro Data: In vitro studies have demonstrated tobramycin is active against susceptible strains of the following microorganisms: Staphylococci, including S. aureus and S. epidermidis (coagulase-positive and coagulase-negative), including penicillin-resistant strains.
Streptococci, including some of the Group A-beta-hemolytic species, some nonhemolytic species, and some Streptococcus pneumoniae.
Pseudomonas aeruginosa, Escherichia coli, Klebsiella pneumoniae, Enterobacter aerogenes, Proteus mirabilis, Morganella morganii, most Proteus vulgaris strains, Haemophilus influenzae and H. aegyptius, Moraxella lacunata, Acinetobacter calcoaceticus and some Neisseria species. Bacterial susceptibility studies demonstrate that in some cases, microorganisms resistant to gentamicin retain susceptibility to tobramycin.
INDICATIONS AND USAGE
Tobramycin Ophthalmic Solution, USP 0.3% is a topical antibiotic indicated in the treatment of external infections of the eye and its adnexa caused by susceptible bacteria. Appropriate monitoring of bacterial response to topical antibiotic therapy should accompany the use of Tobramycin Ophthalmic Solution, USP 0.3%. Clinical studies have shown tobramycin to be safe and effective for use in children.
CONTRAINDICATIONS
Tobramycin Ophthalmic Solution, USP 0.3% is contraindicated in patients with known hypersensitivity to any of its components.
WARNINGS
FOR TOPICAL OPHTHALMIC USE ONLY - NOT FOR INJECTION INTO THE EYE
Sensitivity to topically applied aminoglycosides may occur in some patients. If a sensitivity reaction to Tobramycin Ophthalmic Solution, USP 0.3% occurs, discontinue use.
ADVERSE REACTIONS
The most frequent adverse reactions to Tobramycin Ophthalmic Solution are hypersensitivity and localized ocular toxicity, including lid itching and swelling, and conjunctival erythema. These reactions occur in less than three of 100 patients treated with tobramycin. Similar reactions may occur with the topical use of other aminoglycoside antibiotics. Other adverse reactions have not been reported from tobramycin therapy; however, if topical ocular tobramycin is administered concomitantly with systemic aminoglycoside antibiotics, care should be taken to monitor the total serum concentration.
To report SUSPECTED ADVERSE REACTIONS, contact Bausch + Lomb, a division of Valeant Pharmaceuticals North America LLC, at 1-800-321-4576 or FDA at 1-800-FDA-1088 or www.fda.gov/medwatch.
OVERDOSAGE
Clinically apparent signs and symptoms of an overdose of Tobramycin Ophthalmic Solution, USP 0.3% (punctate keratitis, erythema, increased lacrimation, edema and lid itching) may be similar to adverse reaction effects seen in some patients.
DOSAGE AND ADMINISTRATION
In mild to moderate disease, instill one or two drops into the affected eye(s) every four hours. In severe infections, instill two drops into the eye(s) hourly until improvement, following which treatment should be reduced prior to discontinuation.
DO NOT USE IF IMPRINTED NECKBAND IS NOT INTACT.
FOR TOPICAL OPHTHALMIC USE ONLY