Alprazolam Tablets, USP contain alprazolam which is a triazolo analog of the 1,4 benzodiazepine class of central nervous system- active compounds.
The chemical name of alprazolam is 8-Chloro-1-methyl-6-phenyl-4H-s-triazolo [4,3-α] [1,4] benzodiazepine.
The structural formula is represented to the right: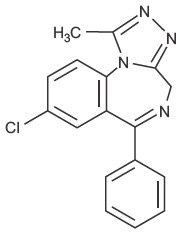 Alprazolam is a white crystalline powder, which is soluble in methanol or ethanol but which has no appreciable solubility in water at physiological pH.
Each Alprazolam tablet, USP, for oral administration, contains 0.25, 0.5, 1 or 2 mg of alprazolam
Alprazolam Tablets USP, 2 mg, are multi-scored and may be divided as shown below:
Inactive ingredients: Lactose monohydrate, microcrystalline cellulose, sodium starch glycolate, hydroxy propyl cellulose, sodium lauryl sulfate and magnesium stearate. In addition, the 0.5 mg tablet contains FD & C Yellow 6 lake and the 1 mg and 2 mg tablet contains FD & C Blue 2 lake.