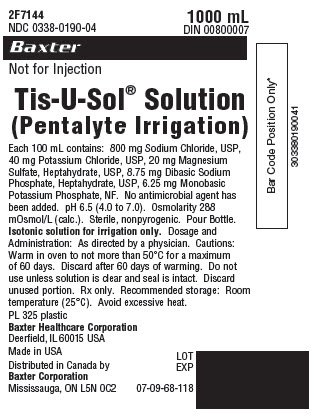 2F7144
NDC: 0338-0190-04
1000 mL
DIN 00800007
Baxter Logo
Not for Injection
Tis-U-Sol® Solution
(Pentalyte Irrigation)
Each 100 mL contains: 800 mg Sodium Chloride, USP,
40 mg Potassium Chloride, USP, 20 mg Magnesium
Sulfate, Heptahydrate, USP, 8.75 mg Dibasic Sodium
Phosphate, Heptahydrate, USP, 6.25 mg Monobasic
Potassium Phosphate, NF. No antimicrobial agent has
been added. pH 6.5 (4.0 to 7.0). Osmolarity 288
mOsmol/L (calc.). Sterile, nonpyrogenic. Pour Bottle.
Isotonic solution for irrigation only. Dosage and
Administration: As directed by a physician. Cautions:
Warm in oven to not more than 50°C for a maximum
of 60 days. Discard after 60 days of warming. Do not
use unless solution is clear and seal is intact. Discard
unused portion. Rx only. Recommended storage: Room
temperature (25°C). Avoid excessive heat.
PL 325 plastic
Baxter Healthcare Corporation
Deerfield, IL 60015 USA
Made in USA
Distributed in Canada by
Baxter Corporation
Mississauga, ON
L5N OC2
07-09-68-118
Bar Code Position Only*
303380190041
LOT
EXP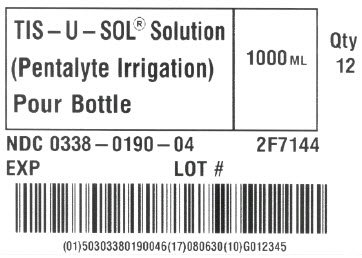 Carton Label
Carton Label
TIS-U-SOL® Solution
(Pentalyte Irrigation)
Pour Bottle
1000 mL
Qty
12
NDC: 0338-0190-04
2F7144
EXP
LOT #
Bar Code
(01)50303380190046(17)080630(10)G012345