Dextrose Injection, USP 20%, 30%, 40%, 50% and 70% are sterile, nonpyrogenic, hypertonic solutions of Dextrose, USP in Water for Injection in a polyvinylchloride flexible plastic container for intravenous administration after appropriate admixture or dilution [see Dosage and Administration (2.1)].
Partial-fill containers, designed to facilitate admixture or dilution to provide dextrose in various concentrations, are available in various sizes. See Table 1 for the content and characteristics of these concentrated solutions. The solutions contain no bacteriostatic, antimicrobial agent or added buffer and are intended only for use as a single-dose injection following admixture or dilution. The pH is 4.3 (range is 3.2 to 6.5).
Water can permeate from inside the container into the overwrap but not in amounts sufficient to affect the solution significantly.
Dextrose, USP is chemically designated D-glucose, monohydrate (C6H12O6 H2O), a hexose sugar freely soluble in water. The molecular weight of dextrose (D-glucose) monohydrate is 198.17. It has the following structural formula: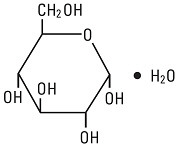 Dextrose may be derived from corn.
Water for Injection, USP is chemically designated H2O.
Dextrose Injection contains no more than 25 mcg/L of aluminum.