kolorz®
By DMG America
Instructions For Use
Kolorz Sixty Second Fluoride Foam
Kolorz Neutral Fluoride Foam
The first time you dispense from a new bottle, gently lift upward on the nozzle to break the protective shipping tab (thin plastic tab located adjacent to "trigger"). If this tab is not broken, there could be an initial surge of foam from the dispenser.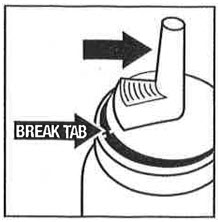 Dosage and Administration:
Shake can vigorously before each use. (Fig. 1)

Turn can completely upside down to dispense. Point can towards fluoride applicator tray and slowly press the nozzle to fill tray. Use one press per arch, as foam will expand slightly to fill the tray. (Fig. 2)

Dry tooth surface and insert tray(s) in mouth.
For Kolorz Sixty Second Fluoride Foam: Have patient bite down lightly but firmly for 1 to 4 minutes; For Kolorz Neutral Fluoride Foam: Have patient bite down lightly but firmly for 4 minutes.
Remove tray(s) and have patient expectorate excess
Instruct patient not to eat, drink, or rinse for at least 30 minutes after application.
How Supplied: Both Kolorz Sixty Second Fluoride Foam and Kolorz Neutral Fluoride Foam are available in 4.4oz. (125g) cans and do not contain chlorofluorocarbon propellant.
Caution: For professional use only. Federal U.S.A. Law prohibits dispensing without prescription.
Warning: Contents under pressure. Do not puncture or incinerate. Store between 55-80° F. Keep from freezing.
Distributed by DMG America
242 South Dean Street
Englewood, NJ 07631 USA
Tel: 201-894-5505
Fax: 201-894-0213
www.dmg-america.com
395490 Rev. 11/13