Uses
relieves heartburn associated with acid indigestion and sour stomach
prevents heartburn associated with acid indigestion and sour stomach brought on by eating or drinking certain food and beverages
Directions
adults and children 12 years and over:
to relieve symptoms, swallow 1 tablet with a glass of water
to prevent symptoms, swallow 1 tablet with a glass of water right before or any time up to 30 minutes before eating food or drinking beverages that cause heartburn
do not take more than 2 tablets in 24 hours
children under 12 years: ask a doctor
Other information
do not use if printed foil under cap is broken or missing
store at 20°-25°C (68°-77°F)
Inactive ingredients
hypromellose, magnesium stearate, microcrystalline cellulose, polyethylene glycol, polysorbate 80, povidone, pregelatinized starch, sodium lauryl sulfate, sodium starch glycolate, titanium dioxide
Consumer Information
Cimetidine Tablets, 200 mg
Acid Reducer
For Heartburn
Just one Cimetidine Tablet, 200 mg relieves and prevents heartburn and acid indigestion.
This product reduces the production of stomach acid that can cause heartburn.
In clinical studies, Cimetidine Tablets, 200 mg was significantly better than placebo tablets in relieving and preventing heartburn symptoms.
And Cimetidine Tablets, 200 mg is approved to take before, during, or after a meal.
Percent of Heartburn Episodes Relieved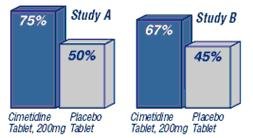 Percent of Patients with Prevention or Reduction of Heartburn Symptoms When Taken 30 Minutes Before a Meal
Percent of Patients with Prevention or Reduction of Heartburn Symptoms When Taken at Time of Meal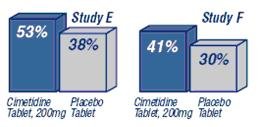 Drug Interaction Warnings:
This product affects some prescription medicines causing slightly higher levels of those medicines in the blood. Higher blood levels could lead to side effects in rare situations. If you currently take Theophylline (oral asthma medicine), Warfarin (blood thinning medicine) or Phenytoin (seizure medicine), consult your doctor before taking this product.
Brand names of some medicines which contain one of these ingredients include:
| | |
| --- | --- |
| THEOPHYLLINE | THEO-DUR® Theochron® Slo-Bid® Uniphyl® Theo-24® |
| WARFARIN | Coumadin® |
| PHENYTOIN | Dilantin® |
There may be other medicines that contain one of these ingredients. If in doubt about this or about possible effects of this product on any other medicines you are taking, talk to your doctor or pharmacist.
For Prevention and Relief of Heartburn
Tips for Managing Heartburn
Do not lie flat or bend over soon after eating
Do not eat late at night, or just before bedtime
Certain foods or drinks are more likely to cause heartburn, such as rich, spicy, fatty, and fried foods, chocolate, caffeine, alcohol, even some fruits and vegetables
Eat slowly and do not eat big meals
If you are overweight, lose weight
If you smoke, quit smoking
Raise the head of your bed
Wear loose fitting clothing around your stomach
READ THE LABEL
Read the directions and warnings before taking this medication.
Questions or comments? 1-800-719-9260
Rev. Date: 11/08
02200 00 J3
Principal Display Panel
Compare to Tagamet HB 200® active ingredient
Heartburn Relief 200
cimetidine tablets, 200 mg
Acid Reducer
Just ONE TABLET RELIEVES and PREVENTS heartburn and acid indigestion
Take ANY TIME you need it:
before meal
during meal
after meal
(# doses) {Replace "#" with the number of tablets in the package}
actual size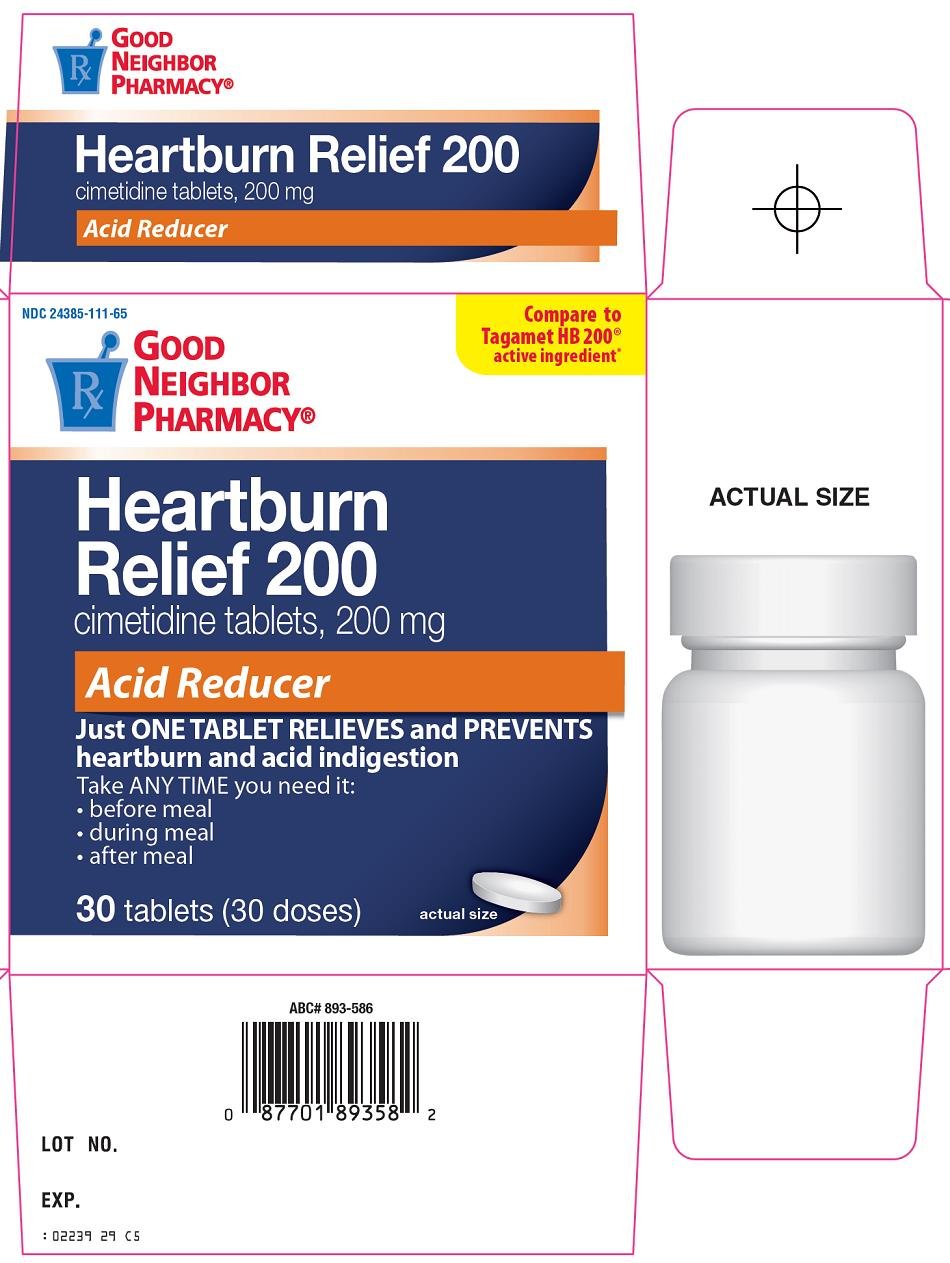 Heartburn Relief 200 Carton Image 1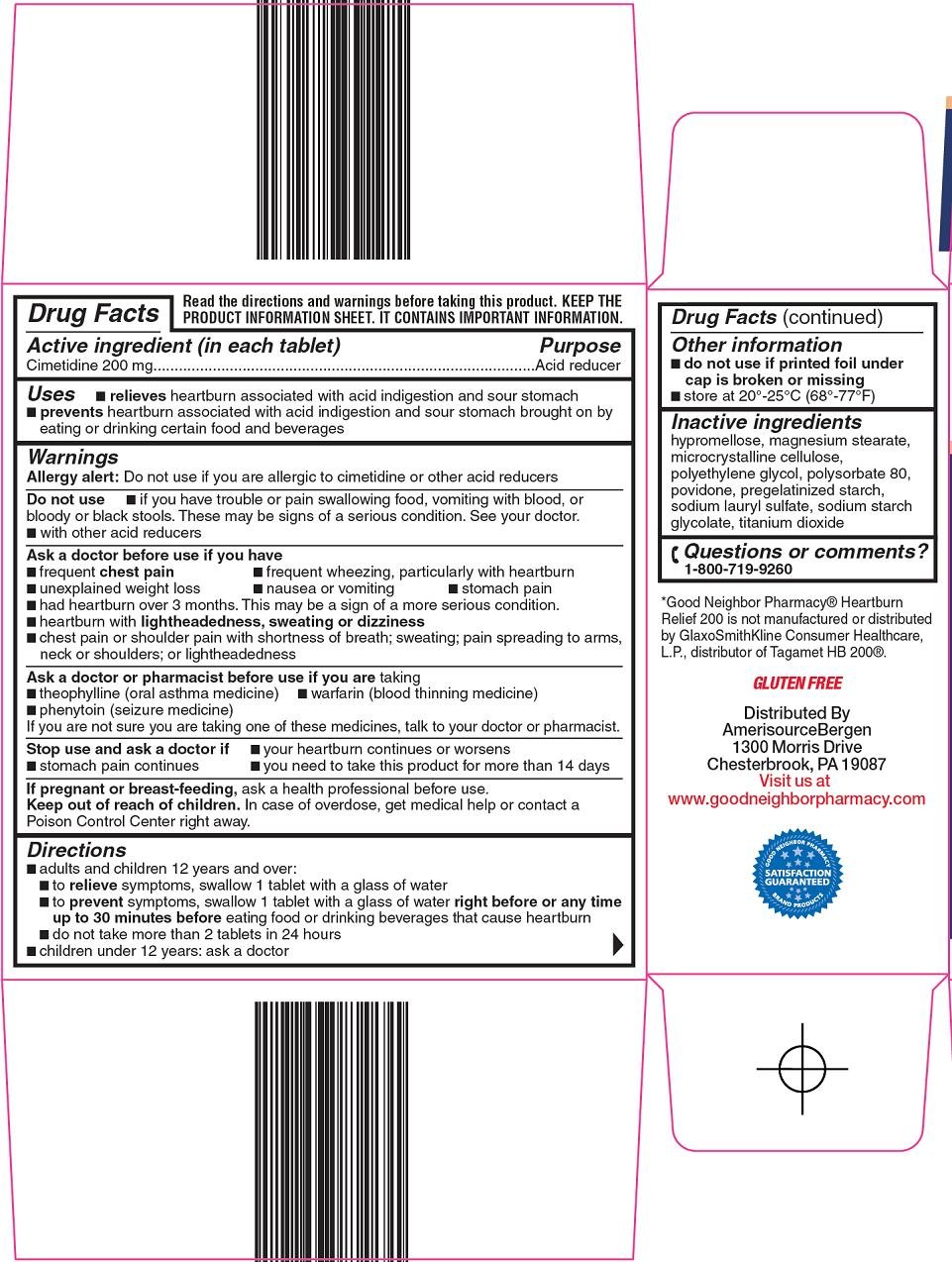 Heartburn Relief 200 Carton Image 2