General: The safety and effectiveness of lidocaine depend on proper dosage, correct technique, adequate precautions, and readiness for emergencies. Resuscitative equipment, oxygen and other resuscitative drugs should be available for immediate use (see WARNINGS and ADVERSE REACTIONS). The lowest dosage that results in effective anesthesia should be used to avoid high plasma levels and serious adverse effects. Repeated doses of lidocaine may cause significant increases in blood levels with each repeated dose, because of slow accumulation of the drug or its metabolites. Tolerance to elevated blood levels varies with the status of the patient. Debilitated, elderly patients, acutely ill patients, and children should be given reduced doses commensurate with their age and physical status. Lidocaine should also be used with caution in patients with severe shock or heart block.
Local anesthetic solutions containing a vasoconstrictor should be used cautiously and in carefully circumscribed quantities in areas of the body supplied by end arteries or having otherwise compromised blood supply. Patients with peripheral vascular disease and those with hypertensive vascular disease may exhibit exaggerated vasoconstrictor response. Ischemic injury or necrosis may result. Preparations containing a vasoconstrictor should be used with caution in patients during or following the administration of potent general anesthetic agents, since cardiac arrhythmias may occur under such conditions.
Careful and constant monitoring of cardiovascular and respiratory (adequacy of ventilation) vital signs and the patient's state of consciousness should be accomplished after each local anesthetic injection. It should be kept in mind at such times that restlessness, anxiety, tinnitus, dizziness, blurred vision, tremors, depression or drowsiness may be early warning signs of central nervous system toxicity.
Since amide-type local anesthetics are metabolized by the liver, lidocaine should be used with caution in patients with hepatic disease.
Patients with severe hepatic disease, because of their inability to metabolize local anesthetic normally, are at a greater risk of developing toxic plasma concentrations. Lidocaine should also be used with caution in patients with impaired cardiovascular function since they may be less able to compensate for functional changes associated with the prolongation of A-V conduction produced by these drugs.
Use in Ophthalmic Surgery: When local anesthetic solutions are employed for retrobulbar block, lack of corneal sensation should not be relied upon to determine whether or not the patient is ready for surgery since corneal sensation usually precedes clinically acceptable external ocular muscle akinesia.
Many drugs used during the conduct of anesthesia are considered potential triggering agents for familial malignant hyperthermia. Since it is not known whether amide-type local anesthetics may trigger this reaction and since the need for supplemental general anesthesia cannot be predicted in advance, it is suggested that a standard protocol for management should be available. Early unexplained signs of tachycardia, tachypnea, labile blood pressure and metabolic acidosis may precede temperature elevation. Successful outcome is dependent on early diagnosis, prompt discontinuance of the suspect triggering agent(s) and institution of treatment, including oxygen therapy, indicated supportive measures and dantrolene (consult dantrolene sodium intravenous package insert before using).
Lidocaine should be used with caution in persons with known drug sensitivities. Patients allergic to para-aminobenzoic acid derivatives (procaine, tetracaine, benzocaine, etc.) have not shown cross sensitivity to lidocaine.
Use in the Head and Neck Area: Small doses of local anesthetics injected into the head and neck area, including retrobulbar, dental and stellate ganglion blocks, may produce adverse reactions similar to systemic toxicity seen with unintentional intravascular injections of larger doses. Confusion, convulsions, respiratory depression and/or respiratory arrest, and cardiovascular stimulation or depression have been reported. These reactions may be due to intra-arterial injection of the local anesthetic with retrograde flow to the cerebral circulation. Patients receiving these blocks should have their circulation and respiration monitored and be constantly observed. Resuscitative equipment and personnel for treating adverse reactions should be immediately available. Dosage recommendations should not be exceeded (see DOSAGE AND ADMINISTRATION).
Information for Patients: When topical anesthetics are used in the mouth, the patient should be aware that the production of topical anesthesia may impair swallowing and thus enhance the danger of aspiration. For this reason, food should not be ingested for 60 minutes following use of local anesthetic preparations in the mouth or throat area. This is particularly important in children because of their frequency of eating.
Numbness of the tongue or buccal mucosa may enhance the danger of unintentional biting trauma. Food and chewing gums should not be taken while the mouth or throat area is anesthetized.
Inform patients that use of local anesthetics may cause methemoglobinemia, a serious condition that must be treated promptly. Advise patients or caregivers to seek immediate medical attention if they or someone in their care experience the following signs or symptoms: pale, gray, or blue colored skin (cyanosis); headache; rapid heart rate; shortness of breath; lightheadedness; or fatigue.
Clinically significant drug interactions: The administration of local anesthetic solutions containing epinephrine or nor-epinephrine to patients receiving monoamine oxidase inhibitors, tricyclic antidepressants or phenothiazines may produce severe, prolonged hypotension or hypertension. Concurrent use of these agents should generally be avoided. In situations when concurrent therapy is necessary, careful patient monitoring is essential.
Drug/Laboratory test interactions: The intramuscular injection of lidocaine may result in an increase in creatine phosphokinase levels. Thus, the use of this enzyme determination, without isoenzyme separation, as a diagnostic test for the presence of acute myocardiac infarction may be compromised by the intramuscular injection of lidocaine.
Patients who are administered local anesthetics are at increased risk of developing methemoglobinemia when concurrently exposed to the following drugs, which could include other local anesthetics:
Examples of Drugs Associated with Methemoglobinemia: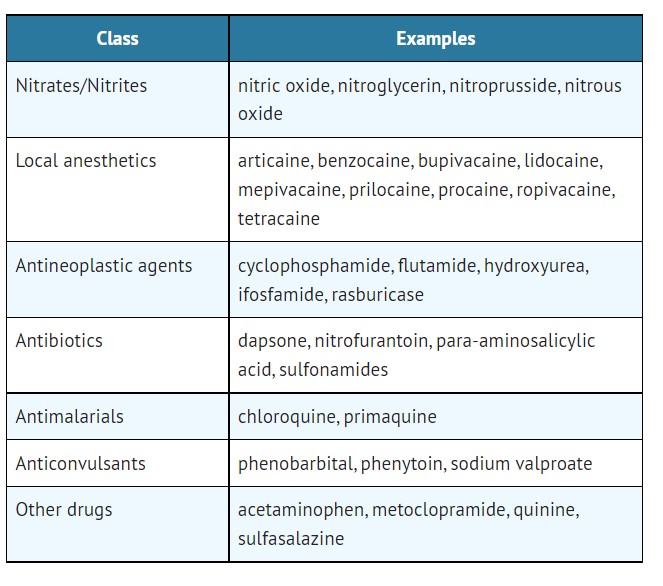 Carcinogenesis, mutagenesis, impairment of fertility: Studies of lidocaine in animals to evaluate the carcinogenic and mutagenic potential or the effect on fertility have not been conducted.
Use in Pregnancy: Teratogenic Effects. Reproduction studies have been performed in rats at doses up to 6.6 times the human dose and have revealed no evidence of harm to the fetus caused by lidocaine. There are, however, no adequate and well-controlled studies in pregnant women. Animal reproduction studies are not always predictive of human response. General consideration should be given to this fact before administering lidocaine to women of childbearing potential, especially during early pregnancy when maximum organogenesis takes place.
Labor and delivery: Lidocaine is not contraindicated in labor and delivery. Should 4% Lidocaine Hydrochloride Injection, USP be used concomitantly with other products containing lidocaine, the total dose contributed by all formulations must be kept in mind.
Nursing mothers: It is not known whether this drug is excreted in human milk. Because many drugs are excreted in human milk, caution should be exercised when lidocaine is administered to a nursing woman.
Pediatric use: Dosages in children should be reduced, commensurate with age and body weight (see DOSAGE AND ADMINISTRATION).