Calcitriol Injection is synthetically manufactured calcitriol and is available as a sterile, isotonic, clear, colorless to yellow, aqueous solution for intravenous injection. Calcitriol Injection, USP is available in 1 mL ampules. Each 1 mL contains: Active: Calcitriol, 1 mcg. Inactives: Dibasic Sodium Phosphate, Anhydrous 7.6 mg; Edetate Disodium, Dihydrate 1.1 mg; Monobasic Sodium Phosphate, Monohydrate 1.8 mg; Polysorbate 20, 4 mg; Sodium Ascorbate 10 mg; Sodium Chloride 1.5 mg; pH Range is from 6.5 to 8.0 and Water for Injection.
Calcitriol is a colorless, crystalline compound which occurs naturally in humans. It is soluble in organic solvents but relatively insoluble in water. Calcitriol is chemically designated (5Z, 7E)-9,10 secocholesta 5,7,10(19)-triene-1α, 3β, 25-triol and has the following structural formula: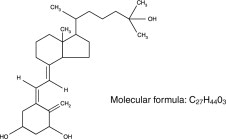 The other names frequently used for calcitriol are 1α,25-dihydroxycholecalciferol,1α, 25-dihydroxyvitamin D3,1,25-DHCC,1,25(OH)2D3 and 1,25-diOHC.